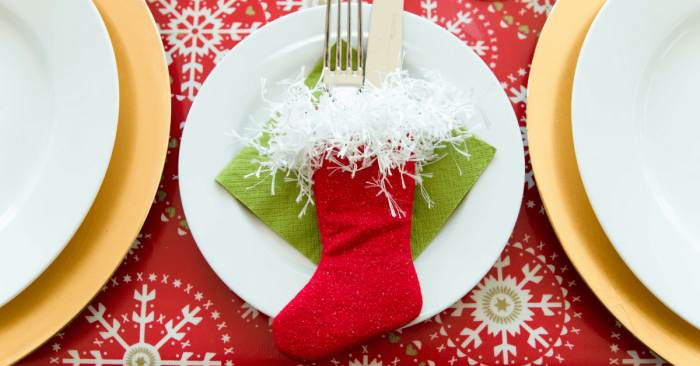 The festive time is here and just before you start celebrating, we wanted to share with you a few brilliant recipes to help you maximize tastes and celebrate with loved ones without having to worry about your nutrition plan! Just about everybody loves seasonal foods and festive feasts, but the fact is your metabolism simply isn't what it used to be, and where you have to be smart is your diet. Here are a few easy and simple recipes that guarantee a delicious and healthy holiday eve:
The Bird:
No Christmas meal is complete without a crispy fowl at the center of the family dinner table, traditionally, an oven roasted goose or turkey, surrounded by roasted vegetables. Be wary that the skin on poultry contains the highest degree of fat and cholesterol, especially when cooking with oils and fats. Fowl is a great choice as it does provide healthier proteins than red meat, but be sure to have white meat with limited or low-fat sauces (we all love gravy!). Alternatives such as fish or seafood can also be an interesting twist on a traditional dish.
Granny's Famous Bird

Ingredients:
• 5kg turkey, defrosted if frozen
• 1 lemon, quartered
• 1 onion, unpeeled and quartered
• 2-3 whole cloves garlic unpeeled and crushed lightly
• 2 bay leaves
• good sprig fresh thyme
Instructions:
• Pre-heat oven to 220°C / Gas 8. Cook the turkey at this temperature for about 30 mins and then lower the oven temperature to 190°C / Gas 5.
• Stuff the turkey with the lemon onion quarters, garlic, bay leaves and thyme.
• Fill the neck end of the turkey with some of the stuffing and put the rest in a lightly oiled ovenproof dish.
• Put the turkey into a large roasting tin, then cover it with foil.
• Cook for about 3 hours, removing the foil for the last 30 minutes of cooking time so that the skin can brown.
• Check the turkey is cooked then remove from the oven, cover loosely with the foil and leave to one side to 'rest' for 30 minutes before carving.
Buttermilk Shrimp Remoulade

Ingredients:
• 1/2 cup canola mayonnaise
• 1/4 cup 2% plain reduced-fat Greek yogurt
• 1/4 cup fat-free buttermilk
• 1 1/2 tablespoons chopped fresh flat-leaf parsley
• 1 1/2 teaspoons prepared white horseradish
• 1 1/2 teaspoons fresh lemon juice
• 1 1/2 teaspoons drained and chopped capers
• 1/2 teaspoon paprika
• 1/4 teaspoon freshly ground black pepper
• 3/4 pound medium shrimp, peeled and deveined (tails on)
• 2 teaspoons olive oil
Instructions:
• Preheat broiler to high.
• To make the rémoulade sauce, combine all the first 9 ingredients in a bowl, while stirring with a whisk.
• Mix together shrimp and olive oil in a bowl; toss to coat. Arrange shrimp in one flat layer on a baking sheet; broil 3 minutes, turn once after 2 minutes. Serve shrimp with rémoulade sauce.
Sides, Sauces, and Something to Sip
Your greatest enemy isn't the main entree at all, but the sinister sides that parade around it. Mashed potatoes, bread stuffing, thick gravy, sugary cranberry sauce, all contain a plentiful amount of Harmful Carbs and fats. Worry not, we have added recipes below for your holiday favourites that are packed full of flavour while lacking in unwanted carbs or fats. First Off, replacing mashed potatoes with yummy mashed sweet potatoes or turnips can be healthier and maybe even tastier with their natural sweet and hearty carbs. Also, have some dry red wine to be festive, or an interesting fruit or veggie based low-sugar virgin cocktail like this festive mulled cranberry punch or a beautiful Christmas Cucumberita.
Christmas Cucumberita

Ingredients:
• 1/2 cup chopped cucumbers
• 3 tablespoons of tequila
• 2 tablespoons of Triple Sec
• 3 teaspoon of shredded lime peel
• 1 tablespoon lime juice
• 1 1/2 teaspoons brown sugar or sugar substitute
Instructions:
• Place the cucumber, tequila, Triple Sec, lime peel, the 1 tablespoon lime juice, and the sugar; and about 1 cup of ice into a blender.
• Cover and blend until the cucumber and ice are thoroughly crushed.
• Then rim a margarita glass with additional lime juice and dip rim in coarse salt.
• Pour blended mixture into the glass and add lime slices.
Christmas Cranberry Sauce

Ingredients:
• 1 12-ounce bag fresh cranberries
• Zest from one orange
• Fresh-squeezed orange juice and water to make 1 cup
• ¼ cup agave nectar
• 1 tablespoon brown sugar
• 1 tablespoon balsamic vinegar
• 1 cinnamon stick
• 2 star anise
Instructions:
• Mix the ingredients together in a large bowl and then bring them to a boil over medium heat.
• Cook until the liquid has evaporated and berries have burst open, this will take about 45 minutes.
• Remove the cinnamon stick and star anise, cool it off until it is ready to be served.
Just Desserts
It wouldn't be Christmas without some fresh baked cookies or traditional holiday pudding. But this year help the main courses go down with some lighter uplifting glucose friendly treats. Include wholesome nuts, fresh fruit, and the smallest possible amounts of sugar and dough, to make sure you can get up and at it, after a delicious dinner.
Holiday Ginger Cookies

Ingredients:
• 1/4 cup butter, softened
• 1/4 cup 50% to 70% vegetable oil spread
• 1/2 cup packed brown sugar*
• 2 teaspoons ground ginger
• 1 teaspoon baking soda
• 1 teaspoon ground cinnamon
• 1/4 teaspoon salt
• 1/4 teaspoon ground cloves
• 1/4 cup full-flavour molasses
• 1/4 cup refrigerated or frozen egg product, thawed, or 1 egg
• 2 cups all-purpose flour
• 3/4 cup white whole wheat flour or whole wheat flour
Instructions:
• In a big bowl, mix together butter and vegetable oil spread; then use an electric mixer on medium to high speed for 30 seconds. Add to the bowl brown sugar, ginger, baking soda, cinnamon, salt, and cloves. Keep using electric mixer until ingredients become consistent, scraping the side of the bowl every once in awhile. Add in molasses and egg. (Mixture will look curdled.) Add regular flour and whole wheat flour, mix just until combined. Break the dough in half. Cover and chill the dough for about 2 to 3 hours or until it is easy to handle.
• Preheat oven to 375. Lightly grease cookie sheets or line it with parchment paper; and then set it aside. Then on a lightly floured surface, roll dough, one half at a time, until it is about ⅛ of an inch thick. Using whatever cookie cutter you choose, cut out shapes; reroll scraps as necessary. Place cutouts 1 inch apart on prepared cookie sheets.
• Bake for 4 to 6 minutes or until the edges are nice and firm and centers are set. Cool on cookie sheets or wire racks for about a minute.
We hope you enjoy your fest with these tasty recipes,
The CuraLife team wishes you, your family and loved ones a Merry Christmas & a great time around the table! 
p.s.
Always remember, even if you indulge more this year, not to worry! Make sure to take your CuraLin's and your sugar levels will remain Healthy & Balanced!